As it's back to school time, if you aren't buying graphing calculators yet, you likely still have a pack of crayons on your back-to-school shopping list.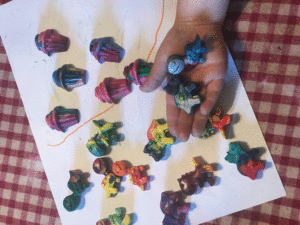 Crayons can take a real beating and if you are anything like me, you might be a pinch of a hoarder and don't want to toss the old ones — I mean, after all, they still color!
I've been carefully scarfing away broken crayons, half-eaten crayons (by the dog, I hope), little crayons from restaurants, all in anticipation of making crayon melts, one day, some day.
With summer time ticking away before my little guy takes that yellow bus away into the sunrise, there is no time like the present.
To start, pull out your crayon stash, tossing out any of the more waxy crayons, and get the kids to start peeling off the papers while you dig out a silicone mold and turn your oven on to 220 degrees F.
As for the mold, any shape you have is fine and fun, and the project truly did not leave much residue at all so you could potentially use your water/wine bottle shaped ones to create mega crayons!
We tried both small dinos and cupcake molds with the shapes being about an inch or so, as well as a larger 2-inch cube mold and both worked well, though a bit differently.
If your kids have thrown in the towel on peeling, take it over for a bit and peel some while you watch some HGTV reruns.
Once that part is done, get back to the kids so they can break them into small pieces — about a half-inch to an inch, depending on your mold size.
From there, group them into color schemes.
We did a few boy-colored ones and girl-colored ones, and some with random colors so Landon and Lucy could fight over whose they were.
You can also experiment with colors themes like red, white, and blue, or green and blue for Earth Day, or sports team colors.
We filled ours up till the crayons were about level with the top of the mold — there is obviously gaps between the crayons and the mold that will fill in, and I actually ended up throwing a few extra pieces in even when they were completely melted and they turned out just fine.
I chose to put our molds on a baking sheet because the silicone trays are always so wobbly on the way out and there's quite a bit of pressure when little eyes are on you to produce fantastic results.
We are windows-open folks already to let the supposed farmhouse breeze in, and so I did not notice any of that famous crayon-fell-on-the-heater smell.
Still, if you have central air, you might want to crack a window just in case.
You don't want your husband to say, "Gee, dinner smells interesting."
Let them completely liquify, which for our smaller molds took us about 12-14 minutes, and close to 20 minutes for our larger squares.
I let them cool for a bit then stuck them in the freezer to help quicken things up and again, the larger squares took longer to completely harden then the little ones.
Popping them out was so neat.
The back layer was not super exciting, but on the fronts were blended in the coolest patterns and designs.
We were all really impressed and Lucy thought they looked good enough to eat until I set her straight.
As always, there's a lot of room to play with this project.
If you don't have a silicone baking sheet, try melting a heap of crayons into an older cake pan to about a half-inch to three-quarter-inch thickness, then stick a metal cookie cutter through a few times before it completely hardens.
You could also make round crayons with a regular muffin tin, and one that you don't mind losing to this project.
With this method, you would use foil cupcake liners that you would then peel off, but there is a chance of wax leaking through.
If we have another heat wave, which I think would really throw off the pumpkin spice people, you can also see if you have luck sticking your crayons outside in full sun for an hour or two. (Landon actually suggested leaving them in my husband's shop, where there have been accidental crayon meltings in the past).
This quick and easy trash to treasure project won me big kudos at my house, and secretly I may have enjoyed it the most.
These would be such a fun little gift for birthday parties, classroom parties, or even just a fun just-because treasure.
Wishing you all a great school year from our home to yours!