Category: Sean Clougherty
by Sean Clougherty Friendships are often one of the things we're most thankful for when asked so it's somewhat ironic that getting together with friends can be a tall task during Thanksgiving. That is, unless you plan for it. "Friendsgivings" as they're called — set get-togethers before or after the main Turkey Day — have gotten more popular over the years, often becoming traditions all their own. "It's not often that friends can get together this time of year," says Andrea Blodgett of Queenstown, who's part of a friendsgiving group that rotates between several houses year to year. "It's a lot of scheduling to work around." But it's worth the effort to get everyone together for a low-key laughter-filled afternoon. "Friendsgiving is my favorite holiday of the year — albeit a made-up one," writes food writer Alexandra Shytsman in the forward of her recipe book "Friendsgiving." "Friendsgiving is everything you love about Thanksgiving — hearty food, day drinking, good company — without the things you don't love, like nagging family members and heated political discussions that make you question if maybe you were adopted after all," she said. Shytsman started having friendsgivings while in high school, organizing elaborate dinner parties for her buds and testing new recipes and her culinary skills. "I'll never forget the feeling of triumph when I pulled my first turkey out of the oven and...
Read More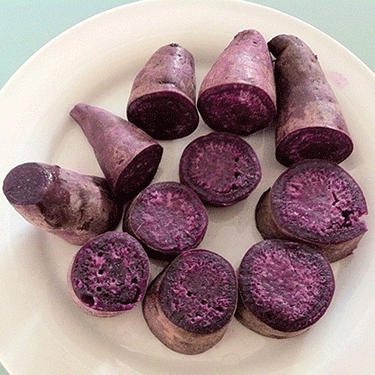 by Sean Clougherty According the Garden Media Group's annual Garden Trends Report, purple foods and plants are going to be on the rise on your plates and in your landscape. Purple cauliflower, potatoes, berries and corn are projected to be favorites amongst discerning grocery store shoppers, Whole Foods added in its annual trends survey. Why? Purple packs a punch when it comes to health and wellness. According to USDA, purple antioxidants, or anthocyanins, help fight cancer, have anti-aging benefits, reduce obesity and protect the heart. Purple food also promotes mental strength. The Garden Trends Report also said to expect...
Read More