The front of the house is arranged to maximize all the qualities of the home.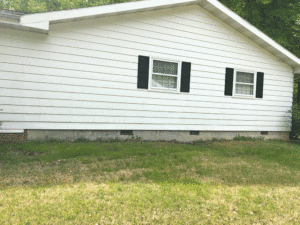 An attractive path sided with mulched beds and flowers. Small trees and shrubbery frame the entranceway.
Move to one side of the house — the side you see the least, perhaps only when you're zooming around it on the lawnmower and all that's there is air conditioning unit complementing an ocean of siding, brick or wood.
Oops! After making the front of the house "perfect" the sides seem to be left to their own devices.
This can be changed rather easily.
These ideas cover any type of blank walls-sides of houses, garages, back of houses and sheds. The side area may be long and narrow, wide open or fenced and gated. Whatever the situation, there is a solution.
Many homes have a visible side yard. Don't let an air conditioning unit get in the way.
Here are some quick notes on ways to prevent any issues with foundations. Make sure water flows away from the foundation. Dampness encourages termites-unwanted little pests.
Look at the wall as a blank canvas.
Adding a few elements will change the entire look of the house and yard.
• Consider a walkway of paving stones or slate. Surround the stones with mulch or pea gravel to add dimension. Just don't place the stones close to the wall, leave space for mowing and upkeep. Near the wall a trellis may be an impactful element. There are many kinds available: traditional wooden slats, plant shaped with holders for pots or decorative items or aluminum frames in ornate patterns. A large wall may need two. Balance the two trellises with the walkway connecting them.
• Hanging closed shutters (think of New Orleans) with window boxes can break up the blank space with the illusion of windows. Shutters are available in easy care materials and a plethora of colors reasonably priced. Hang a window box planted with bright, colorful flowers under the new "windows," but keep balance in mind as you configure. It may be tempting to go from nothing to everything on that side but resist the urge and do not overcrowd.
• Select plants that match the environment of the area, paying attention to how much sun hits the side and if the ground stays wet longer or dries out faster.
• Consider a non-plant element such as a bench, or fountain to build off of the plants. A large pot planted with overflowing "ground cover" flowers is another option. Also consider what maintenance you can realistically handle or your once blank wall will turn to a cluttered mess in a hurry.
• Keeping plants in containers adds mobility, could help with maintenance and an ease of rearranging if you want to change more often.
There are so many choices in landscaping and design especially for those large blank walls that tend to be ignored.