(Courtesy Seek Visibility)
In just a few short weeks, the sunshine will be bright, the air will be warm, and the birds will be singing so sweetly that you won't be able to stop spending time outside. Yet, if you don't prepare your yard for spring, you won't enjoy what you see. Your shrubs need pruning, your beds need planting, and most important of all, your lawn needs quite a bit of TLC.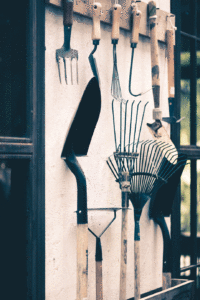 Before you bother scourging the inside of your home, you need to spend time spring cleaning your exterior spaces.
Here are the most important activities to get your yard looking gorgeous in spring:
Prune Dead and Damaged Branches
It's uncommon for all your trees and shrubs to make it through winter without damage from ice, snow, wind, or biting cold. More likely, some of your plants will have branches that are split, broken, or otherwise unable to grow. To ensure healthy growth of the rest of the plant, it is imperative that you prune these dead branches off – but you must do so with the proper technique. There are a few of the myriad pruning tips to keep your trees and shrubs healthy:
• Shape hedges with hand pruners to provide enough light reaches inner branches.
• Use a handsaw for branches thicker than 1/2-inch to ensure a clean cut.
• Trim evergreens back to a branch with a favorable direction.
• Prune spring-flowering shrubs after they flower.
• Prune summer-flowering shrubs before the buds swell.
Rake Up Debris, Leaves, and Twigs
This one is rather straightforward: If you don't want your yard to look messy, you need to clean it up. Throughout winter, debris will fall all over your yard, but it is almost impossible to pick it up efficiently before spring. By raking up fallen leaves and twigs, you will help the soil around your plants breathe and warm and discourage pests from moving into your yard.
Consider Composting
Not only does composting save environmentally friendly waste from ending up in a worthless landfill, but compost is nearly effortless and can really revitalize a spring yard. In fact, much of the yard waste you collect from pruning and raking can be added to your compost pile, which will in turn feed your growing garden. All you need to start composting is organic waste, an empty space – most people use a container with a cover to mitigate any smells – and patience. When it is ready, your compost can help feed almost every growing thing in your yard.
Love Your Lawn
In truth, a lovely lawn in spring is mostly the result of proper preparations in fall. However, even if you didn't work through your winter lawn survival checklist last October, lawn professionals can help your lawn come back to life. Here are the essential tasks for springtime lawn care:
• Test pH. For optimal growth, your grass needs soil with a neutral pH. You might need to administer lime or sulfur to alter your soil's pH level.
• Aerate soil. After heavy snow, the soil can be compacted, preventing roots from breathing and expanding. Aeration is the process of punching holes in the soil to loosen dirt and provide air.
• Reseed. It's inevitable that some portion of your lawn won't survive dormancy through winter. In bare brown or yellow spots, you should toss new seed and slow-release fertilizer.
• Fertilize. Speaking of fertilizer, your lawn only needs a light snack in the spring. You can check a fertilizing schedule for more detail.
• Control pests. Your lawn is waking up after winter – and all sorts of other critters are, too. To prevent fungus and harmful insects from ruining your lawn, you should apply pre-emergent pesticides.
• Mow sparingly. Because your lawn is just starting to grow, you don't want to cut it to the quick. Using the longest setting, you should only mow every two weeks or so.
Clean and Patch Hardscaping
Water wrecks hardscaping, especially during winter when it tends to seep into cracks and freeze. As soon as you can, you should clean your hardscaping and prevent further damage during spring. First, you should wash away all debris, including gravel, sand, and salt. You might need to move pavers back into place or replace them if they are cracked. The sooner you tackle these issues, the better: Left alone, grit will wear away your hardscaping, displaced pavers will become major trip hazards, and moss and weeds can grow in cracks and crevices to exacerbate the problem.