Summer doesn't have to burn wallet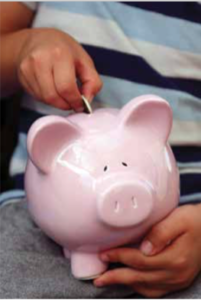 Oh, sweet, sweet summertime!
Is there anything better than the dog days of summer when the kids are out of school, the evenings are warm and fresh produce is everywhere?
I love summer — it is my favorite season, for sure — but it can often eat into my family budget in ways that make me sweat, more than just literally!
There are home repairs that come from an aging HVAC system (not to mention the added utility costs of keeping our house cool and comfortable during those really humid Eastern Shore days) combined with the added costs that summer fairs, carnivals and family vacations that can make even the most financially fit family feel the pinch of the wallet.
Looking for some tips to make the summer more fun than frustrating?
Sit down, relax with a cool glass of iced tea — and read on.
Plant a garden … or share one with a neighbor or friend: While it may be a bit too late to plant a garden for this season, start thinking about an area of your yard that might accommodate a small garden for next season.
Even those without yards can grow small pots of tomato plants and herbs that can save you money off your grocery bill.
I have several friends who have kept me in squash and cucumbers all summer — and most folks will tell you that a little planting can yield quite a bit of produce.
If you have a friend or neighbor who has a garden, why not offer to help with the planting and weeding to pay them back for their goodwill?
They will surely appreciate the offer — and those deliveries of extra veggies will keep coming.
Your local produce stands have plenty of fresh vegetables and fruit — often at better prices than the grocery stores — and can be used in place of more expensive meats for a filling and healthy summer dinner.
Eat Light: I love summer meals — so light and so much easier to make than the heartier meals I tend to cook my family in the cooler months.
Sunday evenings I plan my entire week's worth of meals — which usually consist of a variety of pasta/ potato or vegetable salads combined with whatever meat we decide to pop on the grill.
There is usually a greater selection of choices — and whatever is left goes back in the fridge until the next dinner.
It cuts back on my meal preparation time and saves money, too.
For all you couponers, now is a great time to snag coupons for pasta, salad mixes and barbeque items — and stock up!
Enjoy the neighborhood: My husband and I are amazed at how quickly the money literally falls out of our wallets when we attend a summer carnival.
By the time we feed our family of four, ride a handful of amusement rides, play a game to win a dime store quality toy or two and get a snack, we've quite easily plunked down anywhere from $50-100.
Sound familiar?
We've become more selective in recent years and only go to the carnivals that will benefit our local community (our 4-H fairs and small- town carnivals come to mind.)
Find things right in your own community that your kids will enjoy, such as magic shows at your local library (hello, air conditioning) or visits to swim at the local community pool.
Evening walks on the Rails-to- Trails in Easton or a nature trail can be a ton of fun — not to mention great exercise.
Throw in a game of "I Spy" while you are at it!
Make vacation planning (and saving) a family activity: I love family vacations but they seem to really do a number on the family purse strings.
This year we started a Disney World piggy bank — and every spare bit of change, birthday money or savings goes directly into the bank.
We've used it as a way to get our kids, ages 8 and 11, to think about savings, too.
It sure helps to motivate a grumpy kid to help clean the playroom when there is a dollar or two dangled in front of him.
The kids are so invested in our vacation savings that they put every dollar they get from grandparents and aunts into their bank — a much better option than buying a new Lego kit or Nerf machine gun that one of their parents will inevitably step on in the middle of the night!
This practice can help you save money that you may not have otherwise saved for your family's summer vacation and will be able to teach your children, regardless of their ages, about the value of a dollar.
Keep cool: As you know, summer humidity on the Eastern Shore can be brutal — and there is nothing more refreshing than walking inside to a nice cool home.
That nice cool home comes at a cost — usually a decent spike in your utility bill for the season.
A few inexpensive ways to cut that bill down include installing a programmable thermostat that can bump up the temperature a few degrees while your family is away at work, camp and vacation), planting a simple shade tree or shrub around your home to help keep the temperature inside lower and making sure that your windows and doors are free of leaks.
Some simple caulking or weather stripping can be picked up from your local hardware or home improvement store — can be an inexpensive way to keep those costs down this summer.
(Editor's Note: Kristine George is a freelance journalist who resides in Easton.)