Some days you might not know what you are fixing for dinner that evening, but you know which speciality drink you are going to order at an exact restaurant in seven months when you are on vacation.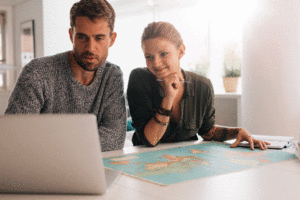 Planning ahead for vacation is not only great for giving you something to look forward to, but it can also help your budget and help travel go more seamlessly.
After you've decided the "where" of the place you'd like to visit, spend some time figuring out the when, what and how long part.
When?
Picking your destination is a good part of the planning, but equally as important is when.
Check out the city and county's tourism sites for the area — there's nothing like finding out you missed a unique and popular festival by a week. … Or, if it is not something that interests you, plan on being there when the crowd of the event is not.
You may also come across "off-season" deals which can be very tempting.
Before you save a few dollars, make sure it doesn't hinder the purpose of your trip.
For example, if you are going on a beach trip you may not want to plan it in a month where it won't be warm enough to get in the water regardless of the savings!
Or if you are heading to a quaint little town, you may not want to hit it on their off season where restaurants and shops are closed.
However, if you are looking forward to a hike through the park or have more of a plan to unwind and relax, these factors may not affect you and a great deal!
Also remember that it can snow in Wyoming on Memorial Day but you can also catch a sunburn on Valentine's Day in Florida!
While weather is unpredictable, at least get a ballpark idea by researching averages online and choose your travel time accordingly.
What are you going to do?
If you are traveling to a specific destination or activity with no risk of sell outs, you can take your time on buying tickets.
Sign up for email newsletters and follow them on social media.
Scroll through their website — did they run an awesome sale in March last year to kick off their season or was their last minute Memorial Day sale a huge savings? Call and ask if they are going to run that promotion again.
Sign up for LivingSocial, Groupon and other discount sites with your destination's ZIP code to keep an eye out for specials on that area's hotels, amusement tickets, food and more.
If you aren't sure exactly what you want to do on your trip, Pinterest really is a great tool for planning as there are endless ideas for just about any destination and you can create a board for each trip to keep ideas and interesting things on.
Keep your likes and travel style in mind, avoiding travel articles where someone lists the top 5-Star restaurants if you are traveling with children or if someone lists 10 museums, but you'd probably be satisfied with one or two — or vice versa.
Plan for your needs.
Use more keywords like "10 Things to Do in Boston with Kids" or "Five Romantic Hikes."
Use posts as a springboard for ideas you may like, but do your own research from there.
While appealing, consider whether you want to commit to doing something unique yet also run of the mill such as an aquarium or something that's also available close to home.
You can also keep things like that in the back of your mind for a bad weather back-up plan.
Once you have your must-have list, work on how they can lump together.
If you want to have a day where the family goes on a bike ride, you could plan on knocking out that area's famous donut shop and, from there, pedaling to the must-see lighthouse.
Factor in that you'll probably stumble on one or two mini stops as well.
Many of us also look forward to eating on vacation, even if we've spent month dieting for it!
If you plan on cooking at your rental for the majority, make a short list of restaurants you'd like to make a priority to go to.
You wouldn't want to spend your eating out budget grabbing burgers at a place closeby out of ease instead of going a few miles farther to try local seafood specialty!
Check out the restaurants to see if they have music nights or other specials to help in planning.
Make sure there isn't a day when they are closed — because, that could very well be the day you'd choose to go!
Budget perks
Planning ahead is great for the budget as well.
Aside from having time to find special deals and rates, you can also pace out your payments.
You'll likely have to pay for a deposit upfront so part of your trip will be paid for.
From there, put aside a little extra every month, being sure to consider extra meals and other expenses that tend to pop up.
You can even encourage your kids to save their money by considering souvenirs they might want so they can budget as well.
So many things in life are not fun to plan, but vacation doesn't have to be one of them.