Corning, N.Y., 'The Crystal City'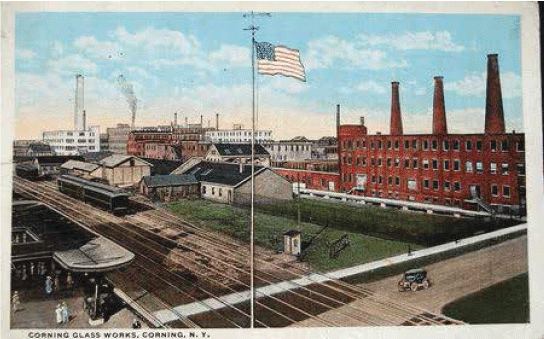 The city of Corning, N.Y., was once known by another name.
Newspapers called it "The Crystal City" because of the large number of cut glass and glass products being produced there in the early 1900s that was sold all over the world.
Local production included a virally of cutting companies churning out products during this time period.
Corning Glass Works was a company that was completely American, and important to the world of American antiques and collectors of such items.
Brooklyn Flint Glass Company moved to Corning in 1868 to escape New York City and the extreme costs of doing business in such an expensive town.
Brooklyn Flint Glass was owned by Amory Houghton, who founded Corning Glass Works in 1851 in Somerville, Mass.
Originally the Bay State Glass Company, it later moved to Brooklyn, N.Y, and operated under the name of Brooklyn Flint.
When it finally moved to Corning, N.Y., it changed its name quickly to Corning Glass Works,  under the leadership of the founder's son, Amory Houghton, Jr.
It produced its last piece of cut glass in a cutting shop in 1962.
Coring was incorporated as a city in 1890.
Some of the finest crystal companies came to Corning to set up shop and cut glass, including Hoare, T.G. Hawkes, H.P. Sinclair and Hunt.
There were also more than a dozen shops that also joined Corning Glass Works in the city, making it an American glass empire.
American Brilliant Period cut glass was made here from 1880-1915. John Hoare's cutting shop from Brooklyn moved to Corning and set up shop on the second floor of the first Corning factory.
With all too this glass production and cutting going on, no wonder it became known as Crystal City.
In 1903, Steuben Glass Works opened in Corning to make blanks for cutting, as well as colored glass.
Stubbed Glass Works was named for the country in which Corning, N.Y. was a part, Steuben County. Frederick Carder and Thomas G. Hawkes formed Steuben glass, which is a famous name in glassworks worldwide.
Steuben was acquired and absorbed into Corning Glass Works in 1918, making it a division of Corning Glass Works, known as "The Steuben Division".
Corning Glass Works has an important history in glass. In its 160-year history, Corning invented an inexpensive production for light bulbs, including a development process for Thomas Edison's light bulb.
Corning supplied the glass to three different light bulb companies in 1892: Edison General Electric, General Electric and Thomas-Houston Electric Company.
Corning was a major manufacturer of television tubes and invented and produced Vycor, a high silica glass that could withstand heat and pressure.
It also produced other items in this same vein, including Pyrex, Corningware, Pyroceram, and Correlle.
Corning, Inc. was also a major player in space related glass.
Low thermal expansion glass was made by Corning to form window panes of every U.S. manned space expedition.
The International Space Station also contains this glass that was first developed by Corning.
The glass can protect the craft from the cold of space and exposure to the sun.
Corning also made the glass blank for the Hunnle Space Telescope. The corning Museum of Glass was created in 1951 by Corning Glass Works, and currently houses more than 45,000 glass objevys from early man to present.
It also has an extensive research library and glass blowing demonstrations.
It is the most comprehensive collection of glass and glass related research material in the world.
On an interesting side note, the museum flooded in 1972 from a tropical storm that flooded a nearby river.
Many of the pieced were rescued and restored, and it took hundreds of volunteers to clean, preserve and in some cases, freeze dry books and literature materials, in order to save them until they could be properly cleaned.
Five feet of water flooded the museum, and today, it is built a but higher when additions and renovations were made.
Corning, N.Y. transitioned from a farming town in the Victorian Age, to a New York glass manufacturing town, to a collection of glass manufacturers in the Guilded Age, to innovator of the future, making items such as fiber optic glass cables and space-related items.
From guided decor of yesteryear's Crystal City to the manufactures of tomorrow, little towns can sometimes produce big results.
The Glass City is an example of innovation, hard work and American ingenuity at its finest, from the Guilded Age to the present.
(Editor's note: DeeDee Wood is the store manager at Tharpe Antiques, in Easton, part of the Talbot Historical Society)